site specific projects/anne katrine senstad/go to main site specific projects

go to Main Real Estate Representation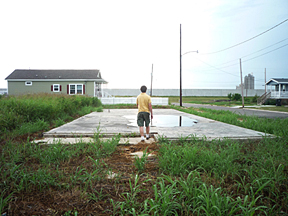 2138 Deslonde Street. Lower 9th Ward
New Orleans
Real Estate Representation - A Situation and Time Specific installation by Anne Katrine Senstad
In collaboration with The City of New Orleans/NEW ORLEANS REDEVELOPMENT AUTHORITY
May31 – Nov 31 2009

About The Real Estate Representation Project

The site and situation specific piece "Real Estate Representation" consists of staging an
installation by constructing a symbolic fence using pink ribbon and flags to isolate,
measure and determine property borders to the adjoining lots at 2138 Deslonde Street in
The Lower Ninth Ward, New Orleans. L9 was the hardest hit neighborhood from Hurricane Katrina
in 2005, where the empty lots are mere footprints of former homes and the families have been
displaced, most of them to not return due to social and economic demography.
The pink ribbon and flags refer to the same ribbons and flags I used for the
"The Sugarcane Labyrinth" Land Art piece I created in Theriot, Louisiana 2009,
where I used the markings to construct Labyrinth pathway and walls.
Documentation of the rented L9 property at Deslonde street consists of
photography, video and a lease agreement with the city of New Orleans.

The symbolic sum of 1 $ for a 6 month lease of the property at 2138 Deslonde Street,
problemetizes the notion of value, economy and governmental ownership versus private
ownership.

The pink ribbon outline of the property and former home acts as a living memorial in
tune with commentary on social values.


©2009 - anne katrine senstad - all rights reserved
all art/photography on this site is copyrighted material.