site specific projects/anne katrine senstad/go to main site specific projects

go to Main Sugarcane Labyrinth Page go to next page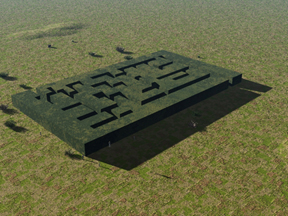 The Sugarcane Labyrinth - An Agricultural Land Art Project by Anne Katrine Senstad in Theriot, Louisiana
In collaboration with KK Projects, New Orleans and Triple K and M Farms, Theriot, Louisiana, May through November 2009.
"I leave to several futures (not to all) my garden of forking paths."
The Garden of Forking Paths by Jorge Luis Borges, 1941

About The Sugarcane Labyrinth Project
The Sugarcane Labyrinth is a 1,4-acre (approx 4000 sq meter) agricultural land art piece placed on a farm in Theriot, Louisiana that was created March 2009 untill it was harvested for Ethanol production December 2009.
Amongst the ideas around creating an agricultural land art piece, a chief focus was to demonstrate agricultural sustainability in order to create awareness about farming culture as a vehicle to local and urban sustainability, as
well as the idea of introducing agriculture back into the urban environmental infrastructure, to build up an agricultural awareness as a way of a natural resource in times of economic failure, and re building local urban environmental support after natural destructions such as hurricanes and earthquakes. The Labyrinth itself is a literary and mythical symbol of "the Path", as well as symbolizing constructions of interleaving
realities. It is traced back to Greek mythology and religion, as "The Path to enlightenment", or the path through life. It is also a game and a landscaped architectual construction for people to interact with, wander through, it creates aesthetic value. The experience of finding one's way within the Sugarcane Labyrinth, with 12-14 foot tall Sugarcane and the walls being 6 foot thick, will be experienced as bewildering and overpowering, recreating the notion of loss of direction and confusion. The sensorial experiences are heightened by an unusually high intake of oxygen from the Sugarcane.
Advisory Board:
Anne Katrine Senstad
KK Projects
Triple K & M Farms/Ronny Waguespack – Sugarcane Farmer
Alexandre Vialou –Agricultural Economist
Emile Dumesnil
The Sugarcane League –Louisiana Division/David Grunyard
Assistant: Pamala Bishop
Tim Connover White - Ecologist

©2015 - anne katrine senstad - all rights reserved
all art/photography on this site is copyrighted material.