site specific + land practice / anne katrine senstad / go to main site specific projects + land practice / go to main menu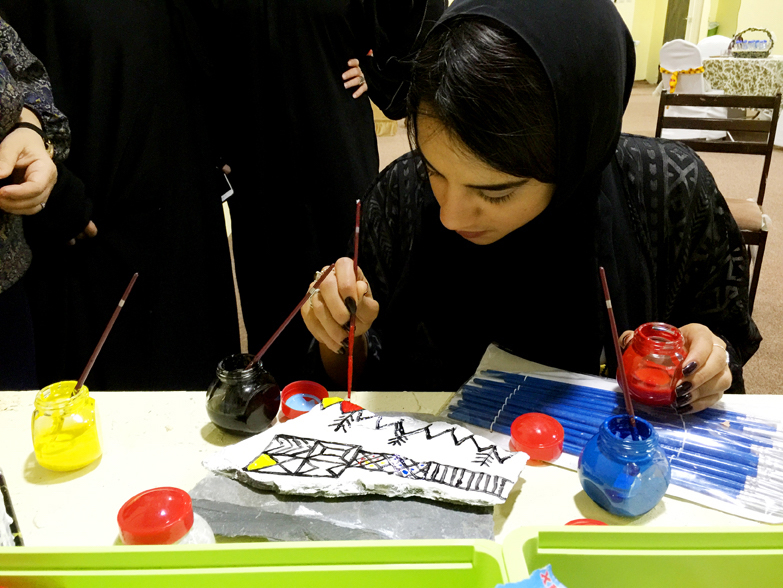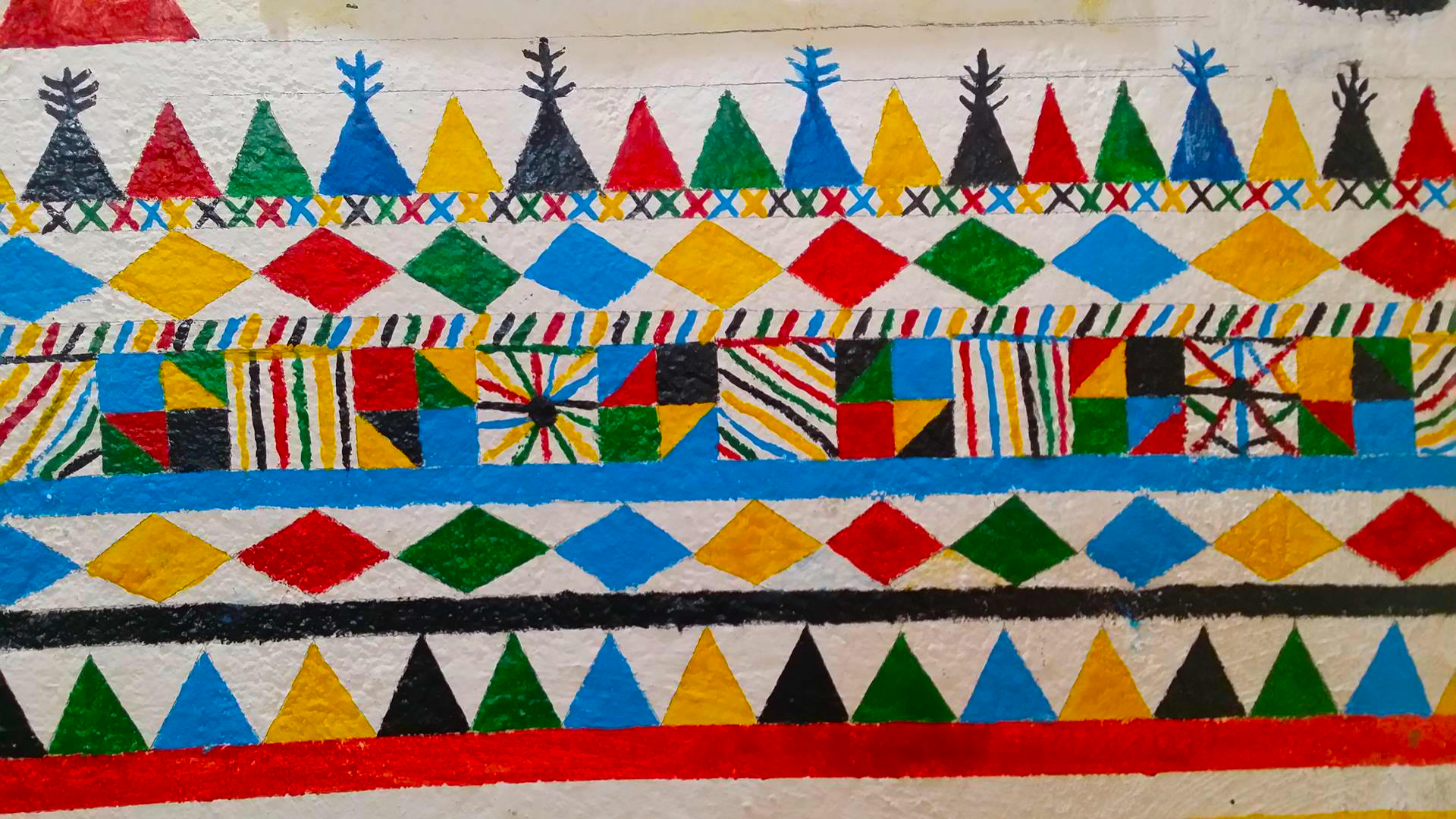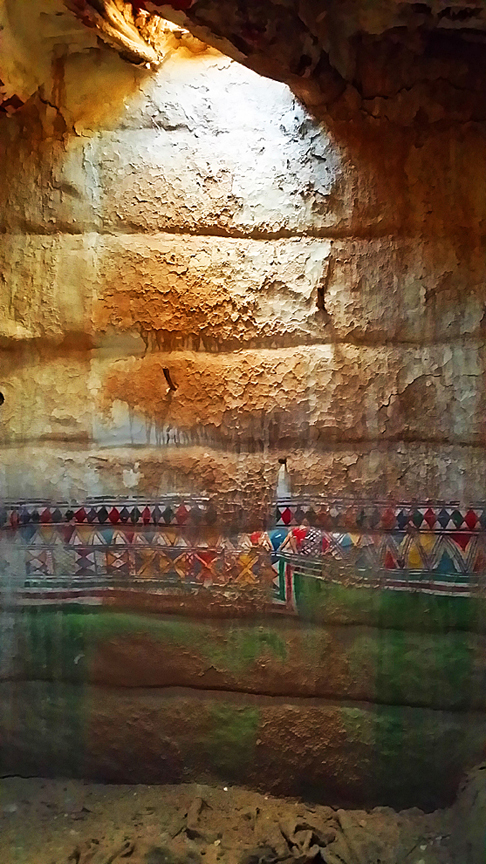 Artist Nadine El-Khoury learning QUT wall painting on a stone slab for practice. Right: QUT wall painting in a local house in Abha, Saudi Arabia.
The establishment of TIME BEYOND PLACE - as an initial research laboratory and art production initiative for and by women artists - created by Anne Senstad in Southern Saudi Arabia in February 2016.
TIME BEYOND PLACE - THE CULTURAL BRIDGE is an international womens art initiative and a cross cultural platform established by New York based artist Anne Senstad to create an open, international, and intercultural platform and meeting of traditional Saudi womens artisanal art practices married with contemporary art by women artists only. The initiative highlights womens art practices throughout time, where the roots of artsinal craftmanship and architectural domains are re interpreted into contemporary art practices such as installationart, performative art, scultpure, photography and technology based art.
Senstad, El-Khoury and the local Asiri women artists are here(pics) collaborating on a traditional Qut wall painting in the village of Abha in southern Saudi Arabia, adjescent to images of old ruins including historic Qut paintings. Qut is a women only tradition consisting of geometric patterns as wall painting in interiors of houses found in the Asir region. While on site in Asir working with the Qut laboratory, Senstad created the project TEXTILE TOPOGRAPHY as part of the platform TIME BEYOND PLACE, and is a series of sculptural site-specific textile interventions that also include intersecting traditional tribal Asiri textiles into nature as narrative embodiments. The textiles refer to the artisinal tradition of Asiri weaving , which is also performaned by women only, where the textiles symbolicaly demonstrate protection and repair of the Asiri stone and clay ruins, as well as the interior Qut paintings, a gesture to uphold cultural heritage and the value of the folkloric narration as cultural memory code.The gestural interventions are similtanously studies for new installations for the forthcoming exhibition series, and as such are part of the cross cultural womens laboratory.

The project as it took place and is developing is partially geared towards a cross cultural and heritage responsive community engagement bwetween women in the rural part southern Saudi Arabia, and simulatnously to bring awareness to the rich heritage of the region and bid for UNESCO protection for the cultural sites of the region by way of contemporary art practices and social engagement, in addition to bringing awareness to the empowerment of women artists on an international scale, and by intersecting contemprary art into local communities in Asir. TIME BEYOND PLACE is an ongoing large scale cross cultural womens platform that is continuously expanding under the leadership of Senstad and is geared to culminate in exhibitions within Saudi Arabia, Norway and USA starting in 2017 and on, in collaboration with various international partners and institutions, with the objective of bridging women artists through a cross cultural platform of art engagement.
The initial research and projectlaboratory that took place in February 2016 was performed in collaboration with Nadine El-Khoury and Ali Moghawi. Organised and funded by Anne Senstad, CULTURUNNERS, Edge of Arabia Foundation , Norske Billedkunstnere/NBK and Office for Contemporary Art Norway.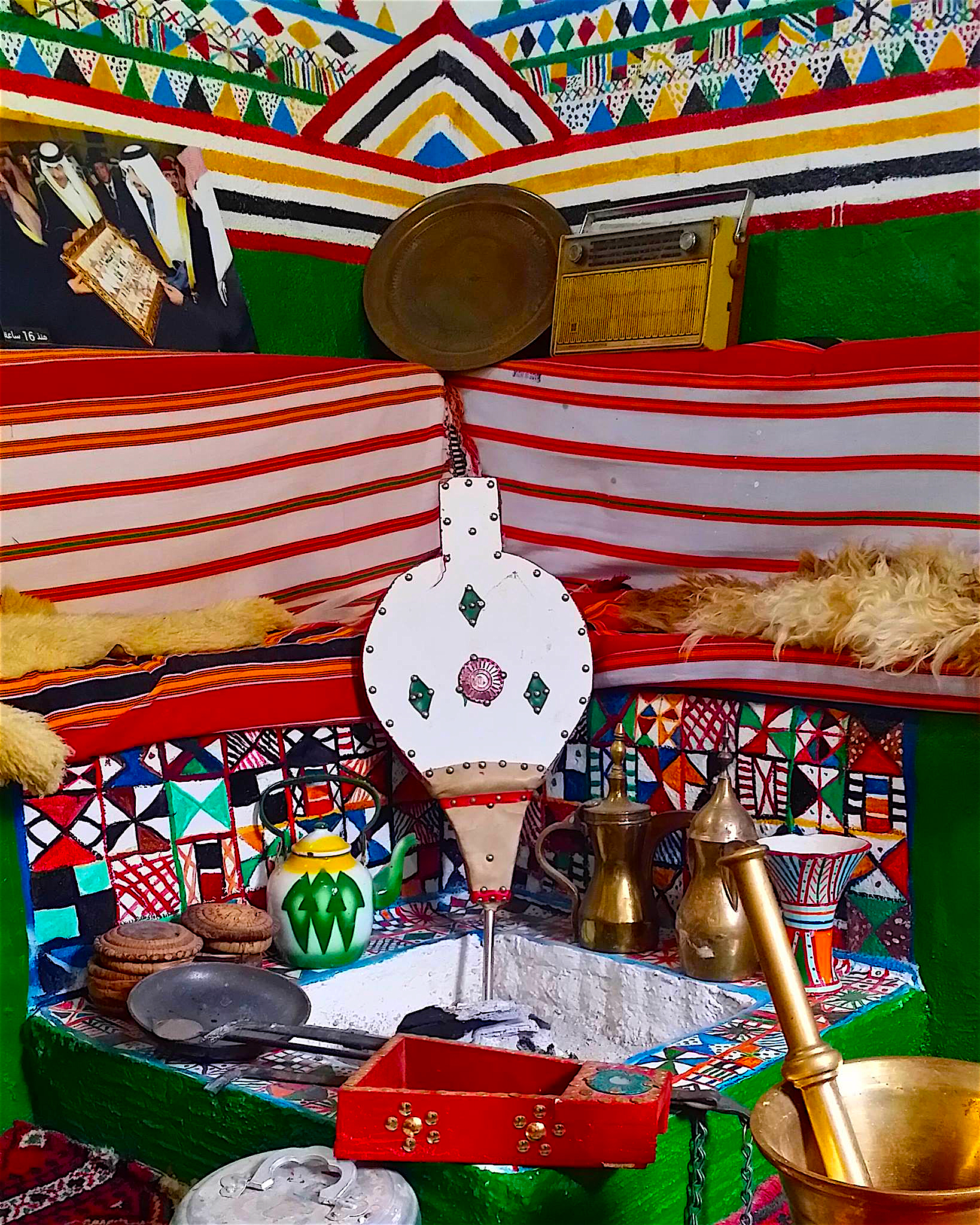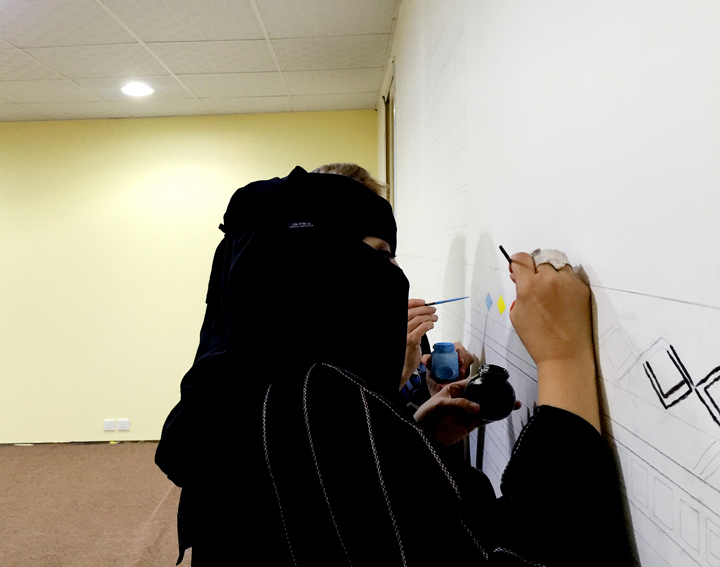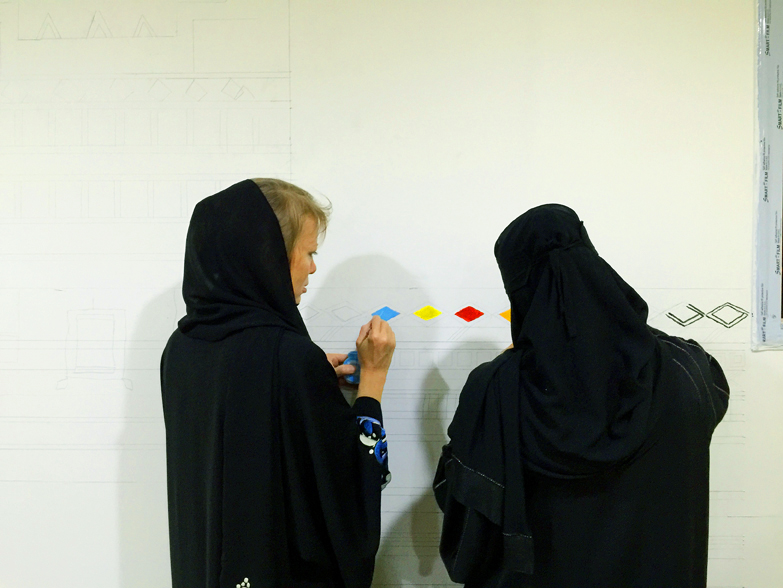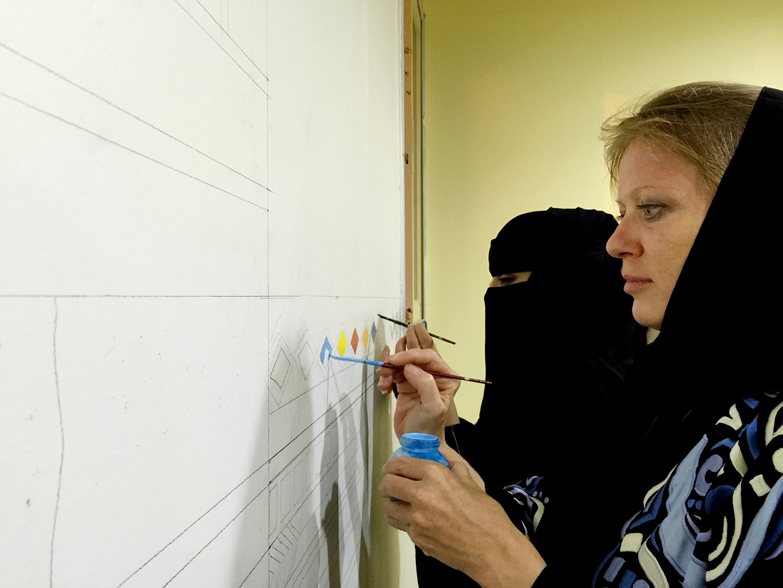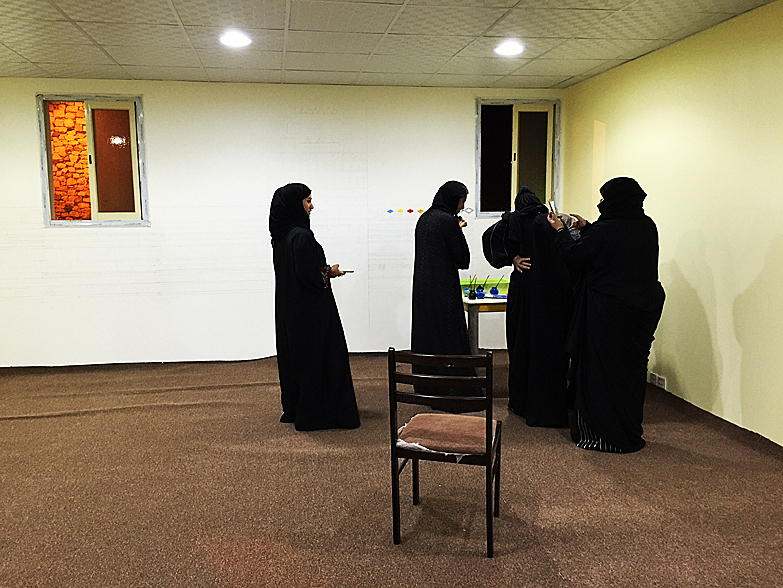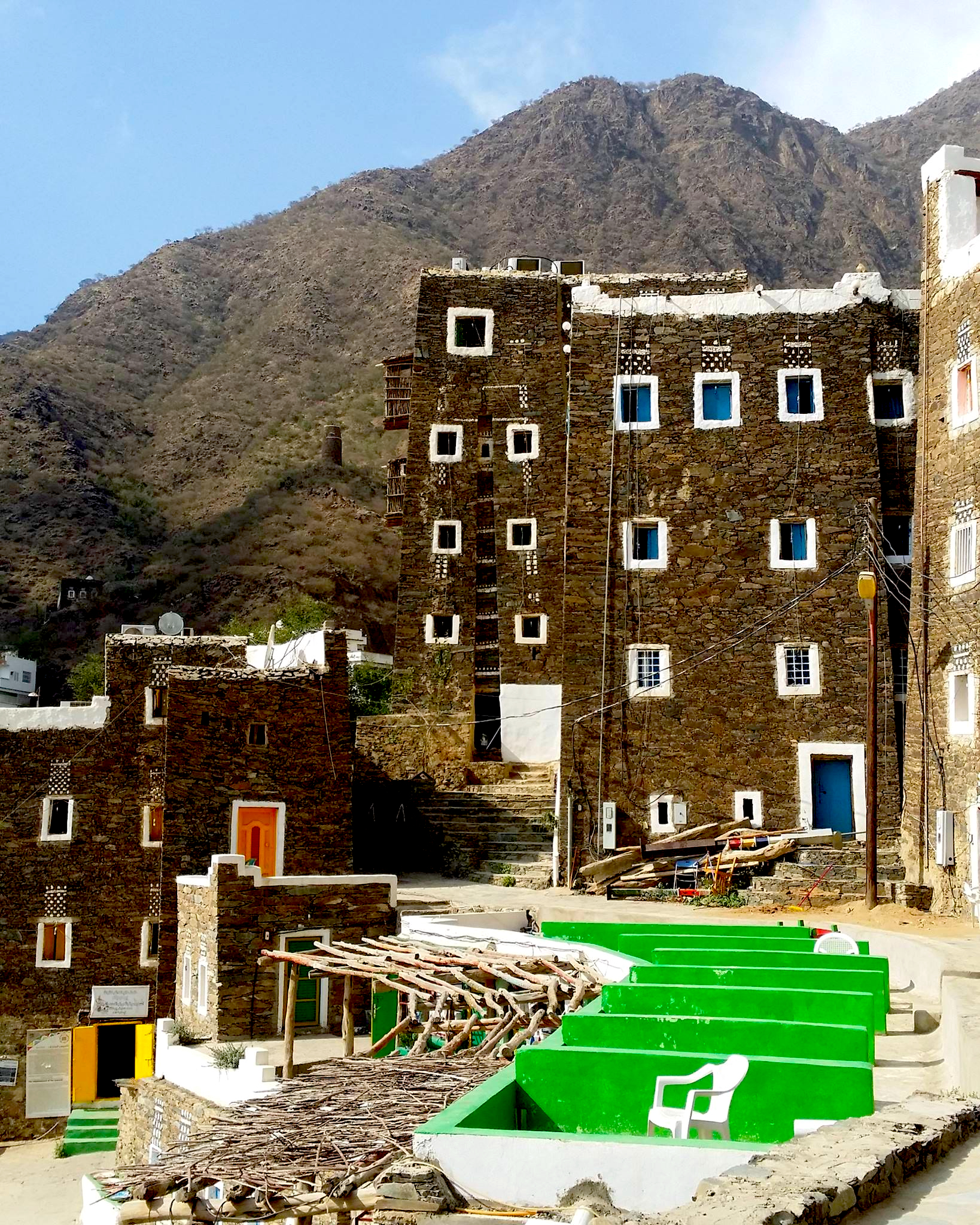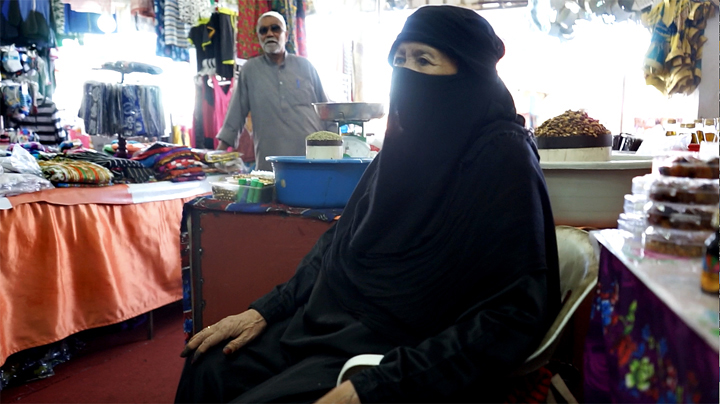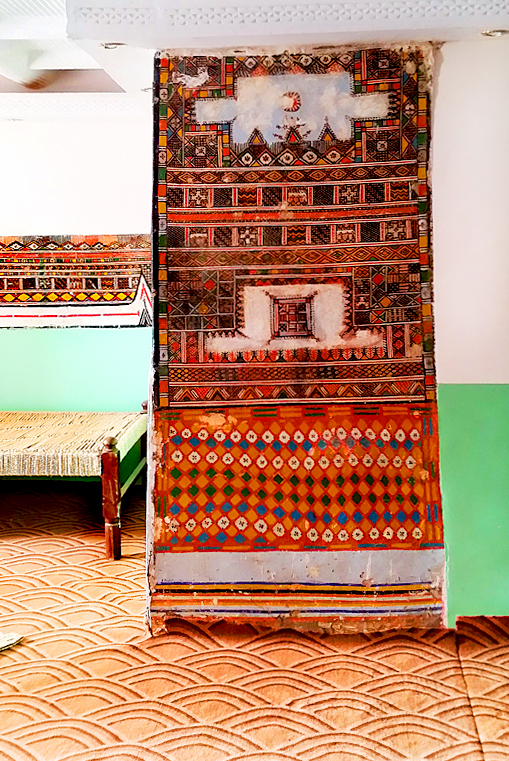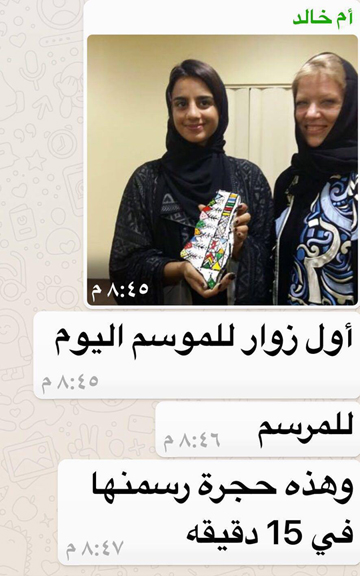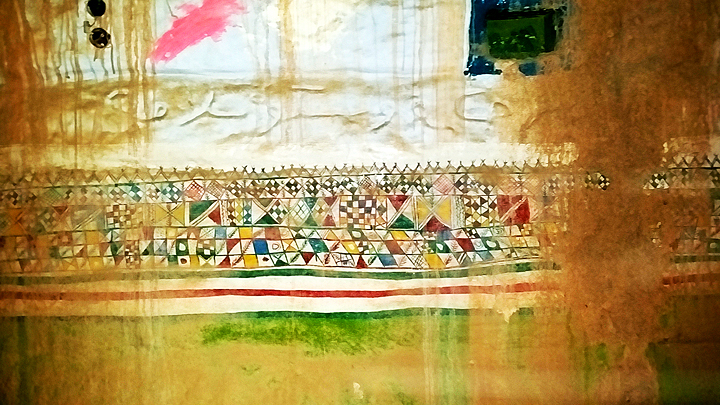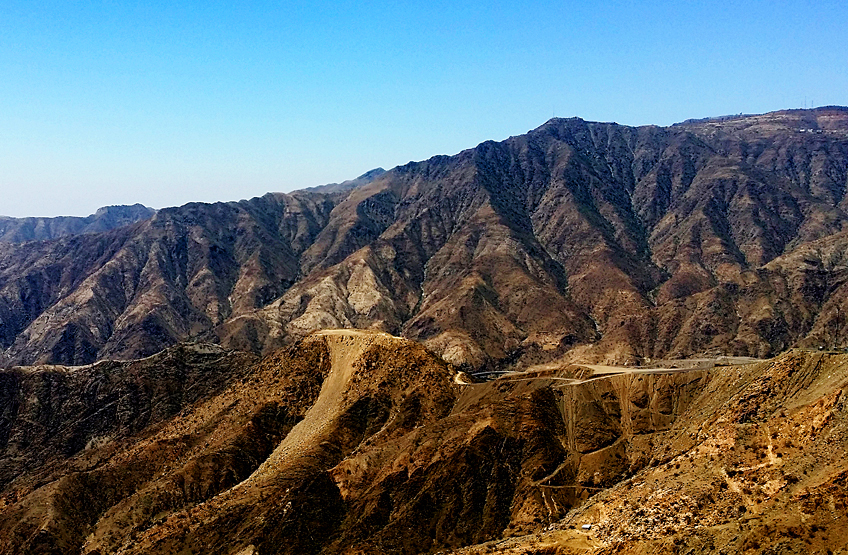 Artist Anne Senstad with Nadine El-Khoury and local artisan women artists collaborating on a QUT wall painting as social and cultural engagement in the Asir region in southern Saudi Arabia. 2016
ABOUT CULTURUNNERS: Developed in collaboration with an international network of artists and journalists, CULTURUNNERS is an independent model of cultural exchange and production; one which empowers and mobilizes international artists to tell stories and create art across contested borders. CULTURUNNERS' first major project is a multiyear grassroots artists' road trip crisscrossing between the Middle East and the United States. In September of 2014, CULTURUNNERS set out in a 34ft 1999 Gulf Stream RV from The Rothko Chapel in Houston, Texas on a mission to connect ordinary people between the two regions. To date, CULTURUNNERS has traveled over 15,000 miles, teaming up with over 50 artists in 25 states across America. Along the way, hosting artists from the US, Norway, Saudi Arabia, Iran, Iraq, UK, Turkey, Bahrain, Kuwait, Palestine, Syria and Morocco. CULTURUNNERS
©2016 - anne katrine senstad - all rights reserved
all art/photography on this site is copyrwritten material.